MDVR is seeing a significant growth of adoption in recent years. This can be attributed primarily to an ever economical cost of hardware, improvements in technology and reduction of connectivity cost. Fleet managers across the globe are finding MDVR an integral part in managing a well-oiled fleet.
In this article (updated April 2022), we are demystifying MDVRs to guide you in making a sound decision when procuring MDVR for your fleet.
What is MDVR? How does it differ from Dashcams (Dashboard camera)?
MDVR stands for Mobile Digital Video Recording, a type of automated vehicular video recorder that is primarily intended for recording of videos surrounding and within the vehicle. While it shares similar origin and common purpose of a Dashcam, MDVR can be best described as a ruggedized, modular or extendable Dashcam meant for commercial vehicles. When coupled with KATSANA Integrated Fleet Management platform, an MDVR system is immensely useful to decrease risk & operational cost, improve fleet & driver safety, and increase profitability of a fleet operator.
In this article, we will explore the differences between Dashcams and MDVR. Click on the points below to go straight to it.
Here are the major differences of a MDVR and a Dashcam:
1. Primary users of MDVR and Dashcams
Dashcams are engineered for personal vehicle owners/drivers, while MDVR is oriented for the needs of commercial vehicle owners/fleet operators.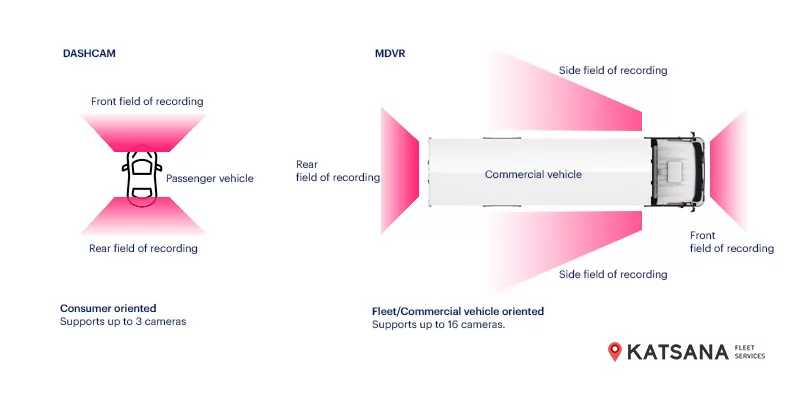 You may notice that MDVR is deployed on the fleets below:
Public transportation such as shuttle buses, school buses, coaches
Commercial vehicle operators such as logistic fleets, freight vehicles, cold chain, bonded trucks, taxis
Public services such as Police/Law Enforcement, Fire brigade, Ambulances, School buses
One of the many reasons fleet operators have begun implementing MDVR/video recording in their vehicles is to reduce fraud in an accident. Innocence in an accident can easily be established if there is an indisputable video recording.
In this example, KATSANA MDVR customer met with an accident on the road where a passenger car forced its way in front of the truck. As a result, the car sustained damage to its body panel.
There are many reasons why MDVR is the perfect choice for fleet operators. I would suggest you to continue reading to know more.
2. Number of recording cameras on MDVR and Dashcams
A standard off-the-shelf dashcam has up to 2 cameras (front and rear) while the more expensive variants may have 3 cameras (front, rear and driver-facing/in-cabin).
An MDVR typically support recording of at least 3-4 cameras simultaneously. A high-end MDVR supports up to 16 cameras which allow for numerous configurations for recording such as trailer, cargo door, blind-spot and many more.
As a fleet owner, especially if you operate large, heavy vehicles, you will appreciate having a complete view of the environment surrounding the vehicle whether it is on the road or parked. Having a 360° view provides a context on why an incident happens, who are the subjects (or culprits) and serves as an uncontested proof; immensely useful on legal grounds.
While a passenger vehicle may need 2-3 cameras at the most, a large truck hauling cargo will likely require up to 8 cameras to ensure complete video coverage of the surrounding.
KATSANA MDVR system supports up to 8 Channel cameras at 1080P resolution (1x) and 720P resolution (7x).
3. Quality & Properties of recording cameras on MDVR and Dashcams:
Dashcams are installed within the vehicle cabin, which means it is protected against the environment. The extended cameras attached to the Dashcam are not designed to be IP67/IP68 waterproof or weatherproof because they are expected to operate within the passenger car cabin.
MDVR cameras on the other hand, are ruggedized and more robust. The cameras are typically IP67/IP68 rated for use on external surfaces of the vehicle. They are also expected to be exposed to the elements and able to operate for extended time. These cameras will be subjected to heat, rain, dust and vibrations throughout their operating life. Its not an easy life.


However, please take note that while choosing a suitable camera for MDVR, there are also cameras meant for in-cabin use only. Thus please take extra care when selecting the specification of your MDVR cameras; you do not want to discover precious recordings are lost due to malfunctioning camera when you needed it the most.
KATSANA vehicle video recorder is IP68-rated. Cameras installed on external surfaces have added enclosure for protection against hit and bumps.
Interested in MDVR? Contact Us Now
4. Storage size, Storage type and Video Compression supported on MDVR and Dashcams:
A major difference between the two video recording systems is the size and type of memory/storage supported.
A Dashcam being primarily for consumer market (private vehicle owners) typically employs SD (Secure Digital) card as the only medium of storage. Most consumer Dashcam models support up to 64GB of SD storage, while prosumer models may support up to 128/256GB.
An MDVR often comes with several options of storage, being SD, HDD (Hard Disk Drive), or SSD (Solid Stage Drive). It is not uncommon to find MDVR models that support both or more types storage as a matter of redundancy or storage extension. As for the size of storage supported, MDVR typically supports up to 2TB (TeraBytes or 2048 GB) of storage, which is up to 32x more storage than a Dashcam.


Duration of video recording varies depending on the compression format used by the video recorder. An efficient compression such as H264 or H265 makes for a smaller file size. However such compression is typically only found on mid-to-high range Dashcams and MDVR.
Generally, you can refer to the list here on the estimate duration of recording able to be captured on popular storage sizes:
16GB = 4.6 hours of recording at 8Mbps bitrate
32GB = 9.1 hours of recording
64GB = 18.2 hours of recording
128GB = 36.4 hours of recording
256GB = 72.8 hours of recording
512GB = 145.6 hours of recording
1024GB / 1TB = 291.2 hours of recording
2048 / 2TB = 582.4 hours of recording
Note: Both Dashcams and MDVRs implement cyclic recording whereby upon exhaustion of storage, old videos will be overwritten with new videos.
5. Temper-proof construction
A professional MDVR may feature extended storage security by securing the storage compartments against intrusion, a feature seldom found on any consumer dashcam. This feature is especially important to prevent tempering or deletion of precious evidence videos.
The temper-proof construction also extends to the MDVR cabling and battery compartment, including the ability to rely on secondary power source for recording (such as external battery packs). These important modules are typically protected using custom screws or joints; hidden from prying eyes.
A regular consumer dashcam is not engineered with this protection in place, hence you would see that the memory card & battery slots are easy to be opened and tempered by users.
6. Advanced video recording feature – Real-time video streaming to the cloud
What's exciting about MDVR is its ability to be upgraded with new features, or extended with new connected sensors and hardware. With dashcams, what you see is what you get.


A popular upgrade for MDVR is real-time video streaming to the cloud; allowing you as a fleet manager to view recording as it happens from your phone, tablets or personal computers.
To enable this feature, the MDVR will be equipped with 3g/4G/5G SIM card to establish internet connectivity.
Depending on the model of the MDVR and modes enabled, video may be streamed in several ways:
On-demand video streaming: In effort to reduce data consumption (video streaming is a huge data hog), the video is streamed only when it is specifically requested by the fleet manager. If there is no request/viewer of the video, no live-streaming is established and thus, no data is being consumed. How about the recorded videos? Dont worry, the recorded videos are still stored locally in the device storage.
Event-based video streaming: In this configuration, video will be uploaded to the cloud when specific events are triggered. The events can be configured, such as overspeeding incidents, harsh braking or cornering, or when certain sensors are triggered, such as when cargo doors are opened. This is useful to ensure complete record of evidence are stored efficiently on the cloud, thus reducing the cost of streaming and storage.
In the KATSANA Fleet Management platform, MDVR is well integrated to allow you to stream up to 4 cameras at a time.
Interested in MDVR? Contact Us Now
While the connectivity cost has dropped significantly over the years, it can still be very costly if data transfer not managed well. Be sure to consult professional MDVR providers in your region to understand the associated costs in running real-time streaming.
If you are in Malaysia, simply reach out to us for free consultation on enabling live streaming for your fleet.
7. Advanced safety feature – Driver Monitoring System (DMS)
With the advent of Artificial Intelligence (AI) and Machine Learning (ML) in the form of edge computing, a new safety concept began to take place in the past 5 years called Driver Monitoring System (DMS).
A Driver Monitoring System relies on an in-cabin, driver-facing camera to actively gauge the safety index of a driver. This index is derived from driver's facial expression and overall behavior behind the wheels. A capable DMS is able to distinguish behaviors below:
Lack of driving attentiveness: Driver eyes are not focused on the road
Use of smartphones while driving: Phone usage, including calling and messaging
Smoking while driving
Not wearing seatbelts
Sleepy: Driver is yawning or eyes closed
Drinking
Single hand use of the wheel
What used to be an expensive system due to the computing power needed to actively score the driver has now become cheap enough to be embedded within MDVRs.
8. Advanced Driver Assistance System (ADAS)
Thanks to AI and ML, we also see another type of advanced safety feature gaining popularity in recent years.
Advanced Driver Assistance System (ADAS) is often available in the form of a camera module that is mounted onto vehicle front windscreen. The camera actively monitor vehicle approaches (frontal) and will beep when it detects potential collisions (based on rate of speed to the vehicle in front).
An ADAS is fast becoming an economical solution for collision prevention and mitigation.
A more advanced ADAS solution goes beyond monitoring frontal collision. It is also capable of detecting lane departures (with or without signal stalk integration), traffic signs such as stop/slow down, speed limit adherence, pedestrians, lane markings and others.
Combination of Driver Monitoring System (DMS), Advanced Driver Assistance System (ADAS) and Mobile Digital Video Recording (MDVR) is the most robust way to ensure fleet & driver safety in recent times.
9. Extended battery as power backup
A professional MDVR typically comes with an option to install extended battery that allow the MDVR to function when the vehicle is not running, or to complement vehicle battery to prevent significant drain.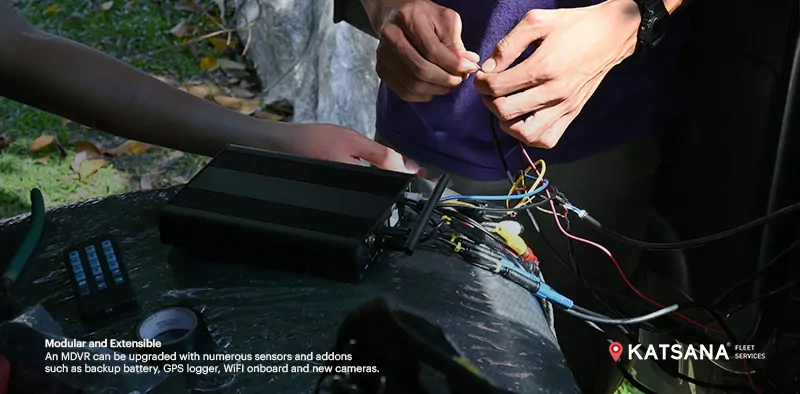 KATSANA Fleet solution uses automotive-grade and certified batteries to be used as backup power for MDVR and GPS trackers. A proven battery pack ensures a peace of mind against battery bloat due to heat, damage to surrounding compartments in the vehicle, or worse, fire-hazard if the battery decided to combust due to extreme heat.
In tropical climates such as Malaysia and South East Asian region, please please exercise caution when selecting backup batteries to be used for automotive purposes.
In our past experience, we have seen unscrupulous service providers delivering consumer-grade battery packs that are not certified for automotive use. Luckily for our customers, we managed to consult the procurement team and educate them on the needs for certified automotive battery packs for MDVR, GPS trackers and other accessories.
Interested in MDVR? Contact Us Now
Example of MDVR implementations by KATSANA Fleet Management Platform
In this section, we are sharing how our customers are implementing MDVR and related addons in their fleet operation.
1. Real-time video streaming for highway operator
Roadside assistance is a job with tremendous safety risk.
It is not uncommon to hear news of accidents and deaths involving roadside assistance personnel in line of duty. The kind of accidents occur typically see high speed traffic crashing directly onto parked vehicles, or worse directly onto the personnel.
In Malaysia, the risk is further exacerbated when irresponsible drivers drive on the emergency lane, and often at high speed.
Highway operators mitigate this risk by enforcing several safety procedures when attending to distressed customers by the roadside:
Placement of traffic cones along the emergency lane that surrounds both vehicles (service truck and customer's vehicle).
Ensuring the service truck is parked behind customer's vehicle, thus creating a crash barrier that protects customer's vehicle and the service personnel.
Emergency lights at the back of the truck to alert incoming vehicles.

On top of these safety procedures, a highway operator in Malaysia now equips KATSANA MDVR system on its roadside service vehicles (tow trucks, 4×4, cars & bikes). The videos are streamed to a Command & Control Center (CCC) located at their headquarters. The videos are available to be viewed live by HSE personnel to make sure their ground support team is adhering to procedures, and provides an invaluable evidence in the event of adverse incidents happening.
2. Automotive-grade & certified backup battery pack for MDVR, GPS Tracker & Car accessories for a Telco
One of the largest telecommunications companies in Malaysia require fitment of several fleet management solutions onto their newly acquired service vehicles. In effort to digitalize vehicle operations and improve delivery of services to their customers throughout Malaysia, the vehicles are equipped with MDVR, GPS trackers and telecommunication tools.
As the number of accessories fitted onto the car increased, a concern that the car battery may not be sufficient to cater the power needs.
In a tender exercise, KATSANA secures the contract to supply all service vehicles with automotive-grade battery power pack to ensure reliable service of the retrofitted accessories. The tender saw several providers offering consumer-level battery power packs that are not to spec for use in an automotive setting.