KATSANA® is proud to announce its successful bid for Sabah Electricity Sdn. Bhd. (SESB) contract to digitalize vehicle operations and fleet management. The contract sees KATSANA deploying and installing its vehicle telematics unit on all SESB mobile assets and vehicles in the state of Sabah and Labuan; approximately 1100 units in total.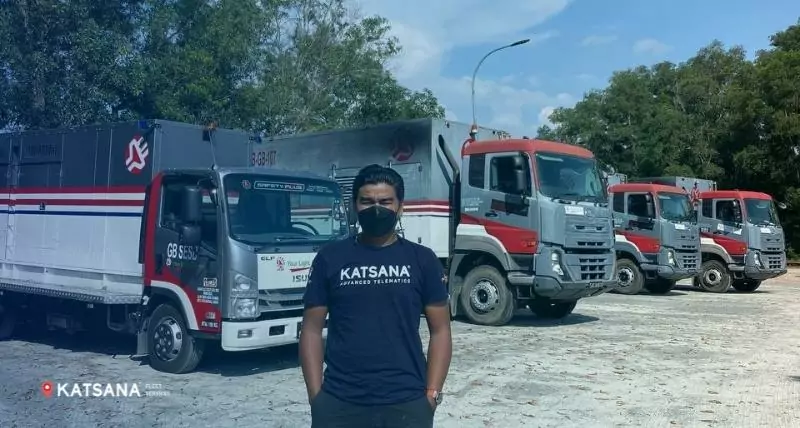 About Sabah Electricity Sdn. Bhd (SESB)
Sabah Electricity Sdn Bhd is a state-owned, vertically integrated power utility company that generates, transmits, and distributes electricity mainly in the state of Sabah and the Federal Territory of Labuan.
The only power utility in Sabah, SESB is committed to developing the electricity infrastructure in the state of Sabah and the Federal Territory of Labuan through generation, transmission and distribution.
The Sabah Grid is made up of 66kV, 132 kV, and 275 kV which link up all major towns in Sabah and Federal Territory of Labuan. SESB continues to apply innovative approaches to technology and in order to support the growing demand of electricity, various generation, transmission and distribution projects will be implemented.
Stakeholders:
Tenaga Nasional Berhad – 80%
Government of Sabah – 20%
Customers: 415,000 customers distributed over 74,000 kmsq.
Employees: 2,300+
Mobile assets & Vehicles: 1000+
Problem statement: Vehicle operational inefficiencies in utility company serving a vast customer footprint
Being the sole power utility provider in the state of Sabah, SESB carries the responsibility in ensuring continuous and efficient power delivery to the people, communities and companies in Sabah & Labuan.
Apart from delivery of power, SESB plays a vital role in economic and social development by providing stability to social & economic functions, support for jobs and enabler for policies that are in line with community priorities.
To ensure excellence in delivering electricity to its customers, SESB deploys a large number of engineers, technicians and ground staff that travel to all corners of Sabah on service trucks and other modes of transport.
In total, there are over 1,100 vehicles & valuable mobile assets used by over 2,300 employees across Sabah.
Without a proper Fleet Management Solution, SESB is facing significant hurdles in areas below when it comes to managing such a large fleet size:
Controlling fuel spending & usage: One of the largest expenses in managing a fleet is fuel to power the vehicles. In fact, fuel costs may represent up to 60% of a fleet's total operation costs. Any improvement to make fuel spending & usage more efficient will help SESB improves its bottom line and delivers more value to its customers.
Managing vehicle service & periodic maintenance: Spread across a large service area, SESB is looking to streamline & digitalize the process of servicing and maintaining its fleet of vehicles. Current process is reliant on paperwork that may get lost or mis- documented (prone to human errors).
Improving vehicle management across the organization: SESB lacks domain awareness and visibility of its fleet due to the sheer size. Currently the status of the vehicles reside in operational clusters in the company, spread across geographical locations & business units. This makes it almost impossible for SESB to gain real-time understanding of its fleet health and operability; which prevents its from making time-sensitive decisions or efficiency improvements.
Driver management and behavior monitoring: SESB requires a centralized fleet management platform on the cloud that stores the profile and status of its drivers. In line with SESB's Health, Safety and Environment policy, SESB would also require insight into the behavior of the drivers on the road. This is to provide fleet managers visibility of the driver's behavior and allow them to implement pre-emptive programs to make the drivers safer & reduce costs due to accidents/uneconomical use of the vehicles.
Reduction of car theft: A significant percentage of SESB fleet of vehicles is 4×4 trucks, which in the state of Sabah, are often targeted for theft due to its ruggedized use in rough terrains. Having experienced vehicles stolen each year, SESB is looking for a proven GPS tracking system that can help eliminate/reduce these car thefts.
Improving Vehicle Operations and Fleet Management in Utility Services (Power Generation & Delivery)
After a year-long participation in a delicate tender process, competing with several other fleet management providers, KATSANA emerged as the winner for SESB Fleet Management Digitalization contract.
KATSANA is selected on the merit of being an industry-proven, robust and analytics-enabled Integrated Fleet Management System. Its extensible platform can be customized to meet SESB's exacting requirements; for example integration with several internal systems already implemented in SESB.

The API-centric architecture of KATSANA allows for seamless system transition as SESB prepares itself for Digital Transformation.
What separates KATSANA apart from other telematics and fleet management providers in the market are:
Vastly extensible Fleet Management Platform: KATSANA Platform is built from the ground up by several teams of dedicated software developers within the KATSANA company itself. Having complete control of the application layer (software) and the architecture of the platform (infrastructure), KATSANA is able to comply with customer's requirements and improve upon existing features at a much faster execution speed than others.
Device-agnostic telematics platform: KATSANA is designed to integrate with any GPS trackers or telematics devices available in the market. This would allow for a seamless transition from other fleet management platforms to KATSANA whereby customers do not need to incur significant demobilization/hardware migration cost.
Dedicated team of software developers, hardware engineers, business analysts and managers: KATSANA consists for professionals in the Fleet Management industry. We bring experienced personnel critical in ensuring the success of fleet digitalization and transformation projects.
Proven recovery of stolen cars: KATSANA has recovered over 300 stolen cars in 8 years, thanks to several antitheft & security measures in KATSANA GPS Tracker mobile apps. This proven recovery experience gave SESB peace of mind in protecting their vehicle assets against common theft.